Being presented is one of British Columbia's most luxurious lakefront equestrian estates. This 29.63 acre oasis is perched on the water's edge of arguably the most pristine lake the southern interior of British Columbia Canada has to offer.  This awe-inspiring property is comprised of many custom-designed and built structures including a monumental 7,500sqft 5-bedroom log home  brimming with high end finishings, three state-of-the-art barns, and an 11,000sqft heated indoor riding arena with viewing room & veterinary facility. The lavish equestrian accommodations include box stall barns, covered hot walker, and indoor riding ring that were built utilizing the highest quality building supplies available. This property boasts several pastures, tree-lined trails along the lake, 1,400 ft of private waterfront access, & is completely fenced & cross fenced. This private resort like estate offers many potential revenue streams and is easily accessible via highway or air. Truly one of British Columbia's most iconic properties.
•••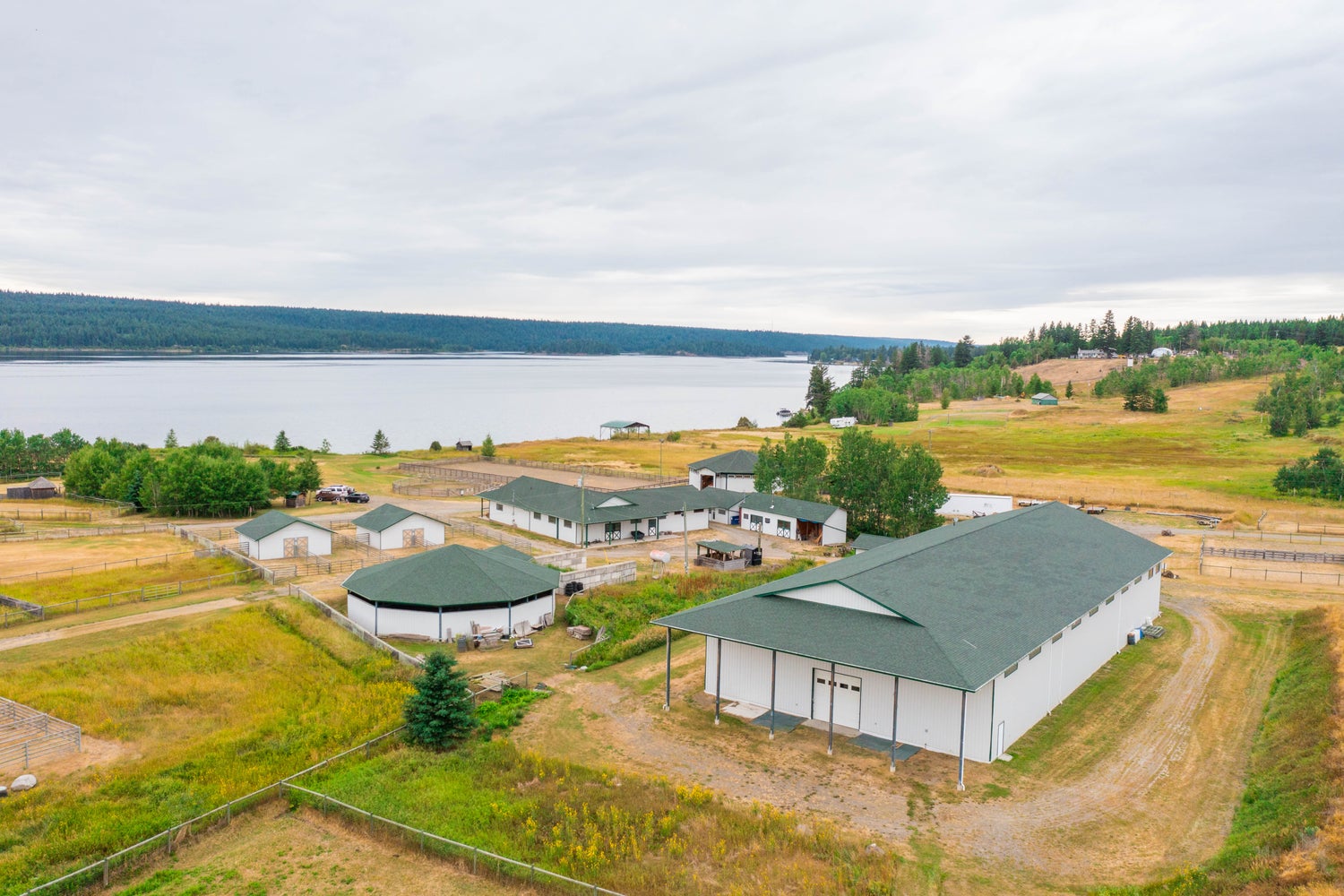 Equine Facilitation
The Equestrian facilities were custom designed and engineered from the highest quality building materials available intended to meet the most prestigious standards of any discerning horse person.
Some of the features included are an 11,000sqft custom built indoor riding arena with viewing room and veterinary facility, 3 large state-of-the-art barns, covered hot walker, and indoor riding ring. Any high profile Equestrian would jump at the opportunity to take advantage of the on-site infrared horse massage facility, 12,000sqft outdoor riding arena, several heated workshops,  and much much more.
All of the buildings were designed and built with no expense spared to achieve the uncomparable level of quality that is clearly evident throughout each structure.
This is truly one of the highest quality and meticulously  designed equestrian facilities British Columbia has to offer.
Every dwelling located on Sól Ranch™ was custom designed to fit the comfort and needs of all demographics, boasting a lavishly modern feel to this Equestrian focused acreage. Towering over the shoreline of Lac La Hache is the
7,500sqft Log Home
with 5 bedrooms and 5 baths, floor to ceiling stacked stone fireplace, cathedral windows looking out towards the  lake, and french doors stepping out to the 1,600sqft deck. This breathtaking home offers more than enough space for all family and friends. Continuing down the shoreline you'll find
House #2
.  This is a custom log home sitting at 2885sqft and boasting 3 bedrooms and 3 bath. This picturesque build offers high end finishings throughout and panoramic views from any level. Located steps away is
House #3
, also known as the "Studio". This custom built 1 bedroom +den, 1 bathroom home offers a beautiful open concept living space with a unique charm offering unobstructed lake views. This home presents a balanced mix of natural log paired with modern finishings. Closer to the Equestrian Facilities and perched steps away from the shoreline are both
Guest Cabins
. The 2 custom log cabins are both over 700sqft with decks and lake views. They both offer 2 bedrooms, full 3 piece bathroom, spacious galley kitchen and beautiful hardwood floors.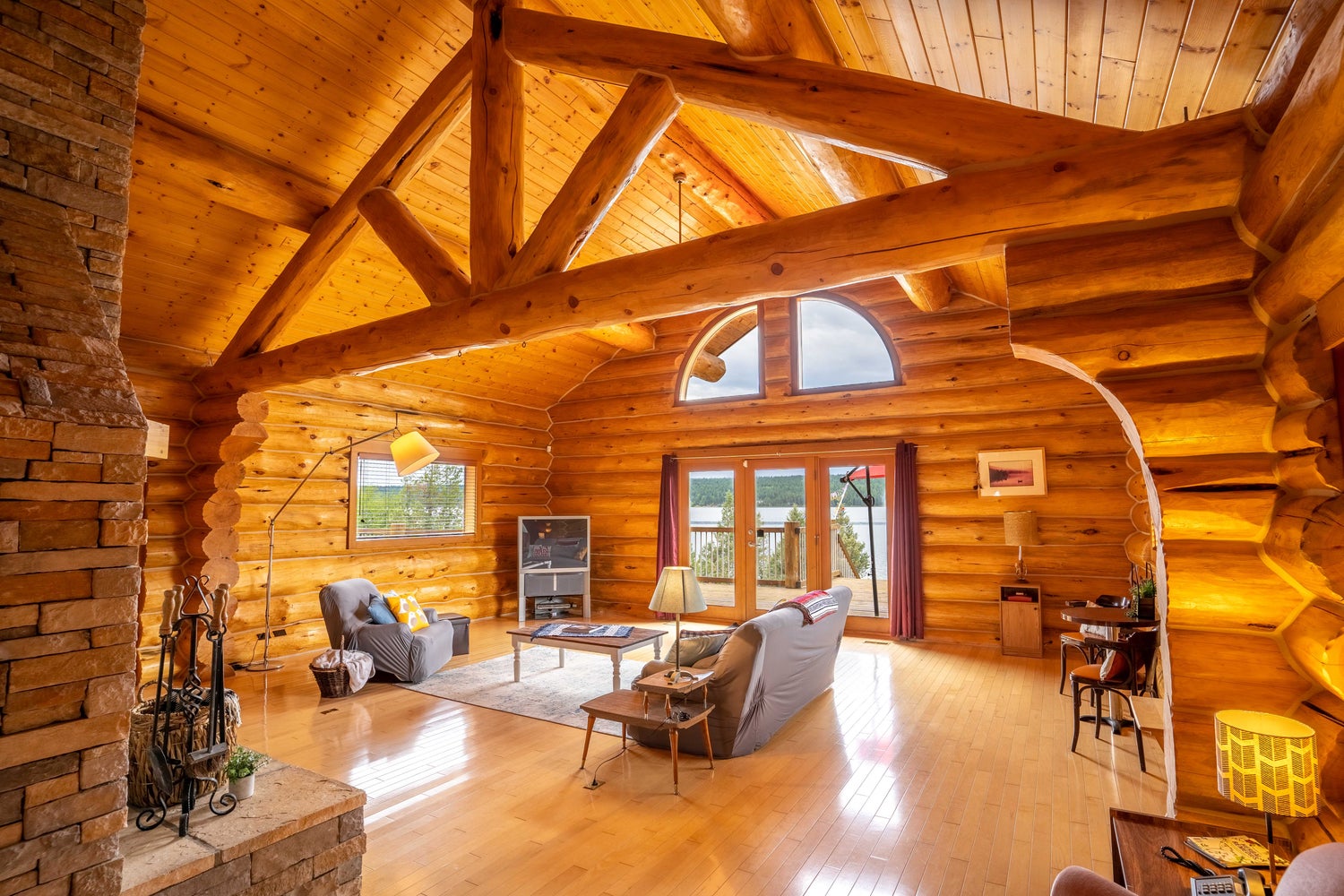 This immaculate 2006 custom-built log home offers year round enjoyment with direct access to one of the top Equestrian Facilities within the Southern Interior. You'll immediately feel at home with the open floor plan, vaulted ceilings, and stacked stone fireplace. The large cathedral style windows were designed to take in the breathtaking views of the lake and surrounding mountains. This 5 Bedroom home comes equipped with a high end boiler system for the radiant in floor heat. The top of the line finishings throughout the open-concept design will truly make you appreciate the high level of engineering that went into each space.
Lac La Hache is a stunning lake well known for its kokanee fishing as well as its trophy size lake trout. Located in the Cariboo region, during the summer months, the Lac La Hache area, including Lac La Hache Provincial Park, attracts many anglers, boaters, swimmers, and water skiers. In the winter there is skiing and snowboarding at Mt. Timothy Ski Area. History plays an important part in this area and the Felker Homestead Heritage Site that provided services for those on their way to the goldfields is being restored. There is also the Lac La Hache Museum housed in a 1930s era log home with interesting exhibits and artifacts.
Location:
Lac La Hache, located in the Cariboo Chilcotin Coast region of British Columbia, is situated about 20 km (12 mi) north of 100 Mile House on Hwy 97,  71 km (44 mi) south of Williams Lake.
History states that when a French Canadian fur trader dropped his axe into a remote Cariboo Lake while ice fishing, he most likely never would have suspected that he was making history. The name Lac La Hache translated into English means" Lake of the Axe" and has remained the name to represent this beautiful lakeshore destination.

This area is rich in tales of fur traders, gold seekers and cattle ranchers. By the 1860s, gold fever was running high, as miners searched for the jackpot first near Likely, and later at Barkerville. With teams of horses, mules and oxen, the fortune-seekers plodded north along the Cariboo Waggon Road skirting the eastern shores of the lake.
Both the Shuswap and Chilcotin First Nations inhabited the area. Long before the lure of wealth brought the fur traders west, the Shuswap Indians established pit houses near the present day village of Lac La Hache. The Chilcotins named the lake Kumatakwa, meaning Chief or Queen of the waters.
The small, friendly community of Lac La Hache describes itself as the "Longest Town in the Cariboo". Highway 97 skirts the entire 18-kilometre shoreline of this beautiful lake in its rolling Fraser Plateau setting.